Clear recommendations from EnergyLab Nordhavn for the sustainable energy solutions of tomorrow
METRO THERM has been part of the ambitious EnergyLab Nordhavn project. The project is wrapping up after four and a half years, and is ready to present a number of recommendations to politicians and public authorities for how to ensure a faster track to green transition.
Since 2015, EnergyLab Nordhavn has developed solutions and methods for sustainable and flexible energy systems in the cities of the future. This has been done in close collaboration between researchers at DTU, Danish industrial and energy companies like METRO THERM, and the vibrant urban laboratory in the Copenhagen district of Nordhavn.
The project is ready to present the results and—not least—to pass on the recommendations to politicians, public authorities, and energy suppliers.
The recommendations point out how we can optimally utilize the potentials of sustainable, flexible, and sector-linked energy solutions and suggest changes of a number of current obstacles in the current Danish legislation and fiscal structure. Obstacles identified by EnergyLab Nordhavn through its work to create a flexible digital energy system in the Copenhagen district of Nordhavn. Examples include making energy taxes more uniform across energy types and exploiting the potential of buildings for energy storage that can subsequently be made available to the energy system. In addition, access to data from energy suppliers is to be ensured as a basis for continued innovation and development in this area.
The recommendations will be handed over to the Director General of the Danish Energy Agency, Kristoffer Böttzauw, at EnergyLab Nordhavn's conference on 8 October. You can read the recommendations and main results here. Pdf, 2 MB.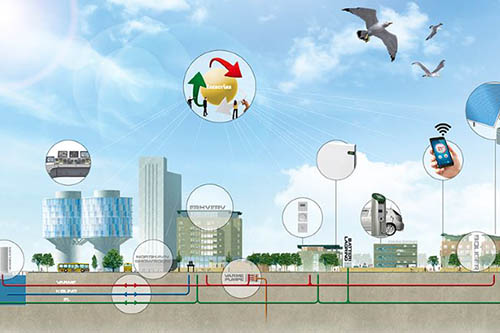 A faster and smarter road to greener energy
Professor Jacob Østergaard, DTU, who has been the initiator of the project and is a member of EnergyLab Nordhavn's Steering Committee, has the following comment:
"In EnergyLab Nordhavn, we've demonstrated how a smart energy system ranging across electricity, heating, buildings, and transport can be realized and function in a vibrant city. It's now time for politicians and public authorities to implement the recommendations in the existing legislation so that it matches the development needed to achieve a faster and smarter green transition in Denmark."
New technology from METRO THERM inspired by EnergyLab Nordhavn
As part of the project, METRO THERM - together with PowerLabDK - developed an advanced control for hot water tanks for single-family houses. The control makes it possible to switch between district heating and electricity, depending on what is most optimal based on the price of energy and / or the climate impact for the generation of energy. In addition, the control has been demonstrated in an ultra-low-temperature district heating scenario, that is, where district heating temperature is not sufficient to make domestic hot water without getting an additional electric inflow. During the Energylab Nordhavn project, METRO THERM developed and started Danish production of an entirely new type of Microbooster heat pump, which is already being marketed and sold in Denmark and Europe.
"It has been very rewarding for METRO THERM to be part of such a diverse circle of partners as in EnergyLab Nordhavn. It gives us, as a manufacturer, a broad and fundamental knowledge of issues in the entire energy supply chain and enables us to develop products for sectoral connection much more targeted. The management, which we have developed and demonstrated together with PowerLabDK, has shown its worth and can very quickly be commercialized if or when the need arises ", says Kasper Korsholm Østergaard, Development Manager at METRO THERM A / S.
Overwhelming interest from abroad
In the past four and a half years, EnergyLab Nordhavn has been visited by more than 150 delegations of mainly foreign decision-makers. They have been able to see for themselves how Danish digital energy technology solutions—which are among the leading solutions in the world—can be used in a city. The participants at the upcoming C40 meeting in Copenhagen will also have an opportunity to visit Nordhavn.
"As one of the world's most sustainable capitals, we're proud of EnergyLab Nordhavn and the intelligent energy technologies that foreign visitors can see demonstrated here. We're already implementing some of the solutions provided by the project in other districts in Copenhagen as part of the work towards becoming a carbon-neutral city in 2025. The partnership has developed and tested solutions in Nordhavn which can help establish the track for the future energy supply of Copenhagen," says Head of Division Charlotte Korsgaard, City of Copenhagen, who chairs the Steering Committee for the project.
The structure of the smart energy system in Nordhavn comprises district heating—which is mainly based on renewable carbon-neutral energy sources—one of the world's smartest heat pumps, a grid-connected battery and, not least, a data warehouse with real-time sharing of data about energy consumption among residents and businesses in the area.
"The EnergyLab Nordhavn project is now being concluded in its present form, but we hope to continue to be able to use Nordhavn as a testing zone and as a living laboratory for the development of new digital energy solutions in the future. This is absolutely necessary because there is still some way to go to achieve the desired flexibility in a future energy supply which is primarily to be based on renewable energy sources such as wind power and solar energy," says Jacob Østergaard.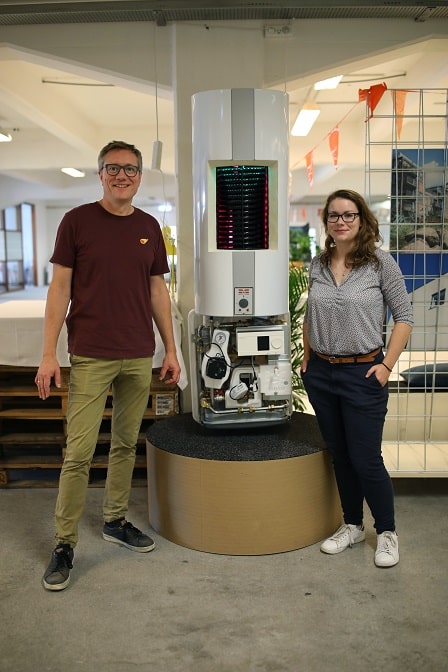 Kasper Østergaard og Lykke Strange Olsen fra METRO THERM, som har stået bag vores bidrag til projektet.